The Jerky Boys Could Never Exist Today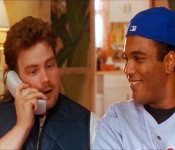 If you're anything like me, you listened to The Jerky Boys in your friend Adam's basement a lot when you were 16 and were about to walk through the woods to this guy Paul's house to smoke some weed and then go to Wendy's, but then Adam kept looking at pictures of cars he wanted to buy and you're like, come on dude, you don't even have any money, we gotta go smoke this weed. And much like some kids walking around in the woods by themselves, The Jerky Boys probably wouldn't be so cool today. Or at least, society would view them very differently.
Click here to read the rest of this story, which tells you that prank calling has been completely dead for DECADES now thanks to modern technologies like caller ID, and that auto mechanics don't exist anymore either.
Share This






Share your thoughts, post a comment.