Pranksters Arrested After Faking Fatal Traffic Accident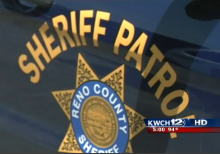 It's probably not a good idea to stage a fatal car accident for the purposes of a public prank. It's probably an even worse idea to actually stick around until first responders show up at the scene.
That's exactly what two Reno, KS men did recently. A concerned citizen called 911 to report seeing two people lying on the side of the road, bloodied with clothing strewn about amid an apparent car crash. EMS crews arrived and the two pranksters shrugged it off as a practical joke and left the scene before police could arrive. The men were later arrested after sheriff's deputies tracked them down based on their license plate information.
Visit KWCH.com for more on this story
Share This






Share your thoughts, post a comment.