Meatloaf For Dinner.exe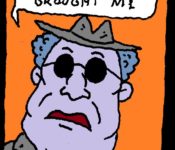 Akspa says hes having meatloaf for dinner tomorrow so that's the name of the show even though it has nothing to do with what we did this day !
Make Sure To Listen Live ! Saturdays 10 PM EST 7 PM PST:
http://www.mixlr.com/prankcallnation
Donations: http://paypal.me/dwightpcn
Patreon: https://www.patreon.com/dwightpcn
Youtube: http://www.youtube.com/dwightthejanitor
Facebook: http://www.facebook.com/prankcallnation
Twitter – http://www.twitter.com/dtjpcn
Discord: http://hijinks.fun/chat
Podcast: Play in new window | Download
Subscribe: Android | RSS | More
Share This






Share your thoughts, post a comment.