Don't Go Downstairs – 03/09/2019 Show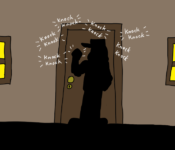 Dwight is trying to rent a very nice apartment in Hawaii and is met with some resistance and ignorance ! and why is getting a sofa for free so damn hard !? Thank you to Nik Caesar from http://scary-art.com for the show art along with MST3Claye !
Make Sure To Listen Live ! Saturdays 10 PM EST 7 PM PST:
http://www.mixlr.com/prankcallnation
Donations: http://paypal.me/dwightpcn
Patreon: https://www.patreon.com/dwightpcn
Youtube: http://www.youtube.com/dwightthejanitor
Facebook: http://www.facebook.com/prankcallnation
Twitter – http://www.twitter.com/dtjpcn
Discord: http://hijinks.fun/chat
Podcast: Play in new window | Download
Subscribe: Android | RSS | More
Share This






Share your thoughts, post a comment.