All Calls Are Recorded – 06/08/2019 Show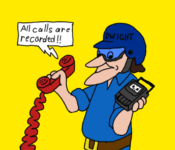 Dwight's stealing more mopeds / scooters to feed his part time theft habit. as well as letting dogs out of yards, snatching passports and more! Thanks to Nik Caesar http://scary-art.com and MST3Claye for the show art !
Make Sure To Listen Live ! Saturdays 10 PM EST 7 PM PST:
http://www.mixlr.com/prankcallnation
Donations: http://paypal.me/dwightpcn
Patreon: https://www.patreon.com/dwightpcn
Youtube: http://www.youtube.com/dwightthejanitor
Facebook: http://www.facebook.com/prankcallnation
Twitter – http://www.twitter.com/dtjpcn
Discord: http://hijinks.fun/chat
Podcast: Play in new window | Download
Subscribe: Android | RSS | More
Share This






Share your thoughts, post a comment.