Dust Yourself Off & Cry Again – 07/27/2019 Show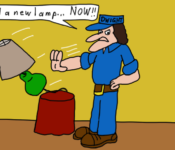 Dwight is having a troubling time with his conscience after stealing a bunch of stuff. Dwight is not going down with the marijuana smoke in his room. He also gets into huge arguments with front desk people about the simplest things. Special Thanks To Nik Caesar http://scary-art.com & MST3Claye For The Show Art !
Make Sure To Listen Live ! Saturdays 10 PM EST 7 PM PST:
http://www.mixlr.com/prankcallnation
Donations: http://paypal.me/dwightpcn
Patreon: https://www.patreon.com/dwightpcn
Youtube: http://www.youtube.com/dwightthejanitor
Facebook: http://www.facebook.com/prankcallnation
Twitter – http://www.twitter.com/dtjpcn
Discord: http://hijinks.fun/chat
Podcast: Play in new window | Download
Subscribe: Android | RSS | More
Share This






Share your thoughts, post a comment.