Carlito's Memorial Show Part 2 – 05/16/2020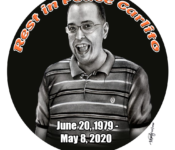 Second half of a 3 1/2 hour tribute show where we offered up stories, calls and memories of the great late Carlito Cross.
Hey guys it's Dwight.. It's my unfortunate duty to inform the many fans of Madhouse Live , Prank Call Nation & prank calls in general we lost a real pioneer and innovator. On Friday May 8th 2020, Carlos Gierbolini A.K.A. Carlito Cross passed away from some very sudden and sad circumstances. On Tuesday May 5th Carlito while attending his dialysis session, Carlito went into cardiac arrest, and then went into a coma. while in a coma he suffered from several seizures and strokes. Around 4 PM on May 8th Carlito was moved to end of life services, and at approximately 10:00 pm Eastern, Brad & I received word Carlito had passed from this world to the next. I know this news is going to shock a ton of people as it did Brad & I. We were asked by Carlito's wife Athena to wait a few days to announce this tragedy so that Carlito's full family could be notified. Carlito's memory will live on. Through the memory of his friends, fans , and just random listeners who were touched by his "gift" or "art". All he wanted to do was make everyone laugh and smile even though they might of had the shiitiest day. Madhouselive.com & Prankcallnation.com will remain up as a tribute to Carlito, his legacy will live on long after hes gone. I for one have had the pleasure of calling Carlito my friend over the last 12 or so years even though we've only met twice face to face , the daily interaction with him will be something that I will miss. He was a friend , a brother even, and his friendship I will always and forever cherish. R.I.P. Carlito i'll catch you on Horse Machine Ranch Road some day my friend .. ride on…ride on..
Podcast: Play in new window | Download
Subscribe: Android | RSS | More
Share This






Share your thoughts, post a comment.