Little Cathy Causes Dads Truck Crash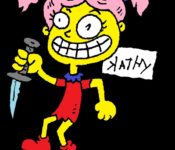 Dad is trying to figure out whats causing little Cathy's issues in art class and then wrecks his 18 wheeler.
Special Thanks To Nik Caesar http://scary-art.com & MST3Claye For The Show Art !
Make Sure To Listen Live ! Saturdays 10 PM EST 7 PM PST:
http://www.mixlr.com/prankcallnation
Donations: http://paypal.me/dwightpcn
Patreon: https://www.patreon.com/dwightpcn
Youtube: http://www.youtube.com/dwightthejanitor
Facebook: http://www.facebook.com/prankcallnation
Twitter – http://www.twitter.com/dtjpcn
Discord: http://hijinks.fun/chat
Podcast: Play in new window | Download
Subscribe: Android | RSS | More
Share This






Share your thoughts, post a comment.