Shake The Polaroid – 10/10/2020 Show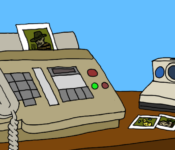 Dwight is sending out faxes that look like polaroids and asking people to shake them and blow on them, offering up some extra special customer service when it comes to Fox Nation network, Dwight is lost in his own hotel room and breaks the greenb, Dwight rewrites history on a stolen scooter, Social distancing is not observed in a motel room, 
Special Thanks To Nik Caesar http://scary-art.com & MST3Claye For The Show Art !
Make Sure To Listen Live ! Saturdays 10 PM EST 7 PM PST:
http://www.mixlr.com/prankcallnation
Donations: http://paypal.me/dwightpcn
Patreon: https://www.patreon.com/dwightpcn
Youtube: http://www.youtube.com/dwightthejanitor
Facebook: http://www.facebook.com/prankcallnation
Twitter – http://www.twitter.com/dtjpcn
Discord: http://hijinks.fun/chat
Podcast: Play in new window | Download
Subscribe: RSS
Share This






Share your thoughts, post a comment.