Dwight Finds A Pizza – 08/21/2021 Show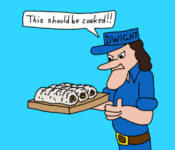 Dwight tries to reserve a space at the Amish Starbucks to run the podcast after the power goes out , for some reason Dwight's sushi wasn't cooked at all ! it was raw ! , big james hopes we survive the semi crash machine , a voice actor woman makes some fart and gagging sounds with her mouth, some woman stole the door dash order and fed the nuggos to her kids, we talk to a really nice motel guy who just wants a friend to talk to , we yell at indians for the millionth time.
Special Thanks To Nik Caesar http://scary-art.com & MST3Claye For The Show Art !
Make Sure To Listen Live ! Saturdays 10 PM EST 7 PM PST:
http://www.mixlr.com/prankcallnation
Donations: http://paypal.me/dwightpcn
Patreon: https://www.patreon.com/dwightpcn
Youtube: http://www.youtube.com/dwightthejanitor
Facebook: http://www.facebook.com/prankcallnation
Twitter – http://www.twitter.com/dtjpcn
Discord: http://hijinks.fun/chat
Podcast: Play in new window | Download
Subscribe: RSS
Share This






Share your thoughts, post a comment.