Welcome To Daylight Savings Time – 11/06/2021 Show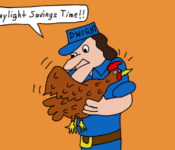 So in this episode we thank you wonderful patreons with a shout out ! , call the UK to talk to Mr. Fahker (fu – ck-er) about his clock license , a woman pisses in the motel hallway and we give her a urine test , Dwight's daughter Jessica (LuLu) is having her time of the month and we need bhenchode assistance , Jessica (LuLu) is pissed she was only allowed 1 bottle of wine from the circle K , Dew-Rite's car has been towed for the millionth time , and a pizza order goes very wrong and Jessica isn't getting her moist wings !
Make Sure To Listen Live ! Saturdays 10 PM EST / 7 PM PST At The Following Places:
YouTube: http://www.youtube.com/dwightthejanitor
Mixlr: http://www.mixlr.com/prankcallnation
Twitch: http://twitch.tv/DwightTheJanitor
Help Support The Show Machines ! With Donation Machines
PayPal: http://paypal.me/dwightpcn
Patreon: https://www.patreon.com/dwightpcn
YouTube Super Chat !
Hit Up The Social Media Machines !!
Facebook: http://www.facebook.com/prankcallnation
Odysee: https://odysee.com/@Dwight_The_Janitor:2
Twitter: http://www.twitter.com/prankcallnation
Discord: http://hijinks.fun/chat
We Got That Prank Call Nation / Madhouse Live Merch
The Entire Store Is 100% Profit Free ! Get This Shit At Cost !
http://shop.spreadshirt.com/prankcallnation
Show Artist
MST3Claye: http://twitch.tv/mst3claye
Nik Caesar: http://scary-art.com
Podcast: Play in new window | Download
Subscribe: RSS
Share This






Share your thoughts, post a comment.