God's Opinion on Prank Calls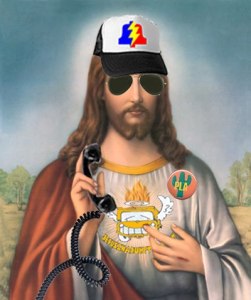 As good hearted Christian I needed to know what the bible had to say about me doing prank calls. Well fortunately I discovered, likely through divine intervention, if you type just about anything into this site you get bible verses related to it. It is basically a magic eight ball version of the bible.  It's absolutely Jesus-licious!!!
Here are my results:
www.openbible.info/topics/pranks_calls
I received 12 results and some of them just seem like gibberish to me. But a few of these with a little translation make so much sense and really touch me.  Not in a pussy way either. Like in a ball grabbing don't tell your mom kind of way. Tell me if they touch you the same way.
---
"James 1:2 Count it all joy, my brothers, when you meet trials of various kinds,"
Translation: Make sure you do new and different types of prank calls or the repetition will make you and your listeners board.
---
"John 14:6 Jesus said to him, "I am the way, and the truth, and the life. No one comes to the Father except through me."
Translation: If you want to be the best at doing prank calls then you better become a host or guest host at PCN. No one comes to PCN except through Carlito.
---
"Ecclesiastes 7:1 A good name is better than precious ointment, and the day of death than the day of birth."
Translation: Knock, Knock, Knocking on heaven's door. Yeah, Yeah Yeah Yeah!
---
"Proverbs 27:17 Iron sharpens iron, and one man sharpens another."
Translation: You're not born good at prank calls. Only doing prank calls will get you good at prank calls.
---
"1 Corinthians 14:33 For God is not a God of confusion but of peace. As in all the churches of the saints,"
Translation: SWAT calls are not that funny unless you have it video recorded or someone gets hurt or something.
---
"1 John 3:4 Everyone who makes a practice of sinning also practices lawlessness; sin is lawlessness."
Translation: RBCP is a criminal and can't be trusted.
---
Well I guess the bible is always up for interpenetration, but this website is never wrong. These bible verses are the word of God and about prank calls DAMN IT! And you can't argue with God, so prank call are good ….because they are the words of God, and God is good. Amen!
-Jiad
Share This






Share your thoughts, post a comment.