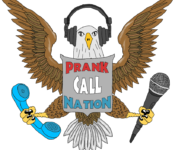 Dwight is providing some Cricket Wireless technical support when we find out this woman is very very racist and asks other people to diguise their accents to make her feel more comfortable.
Make Sure To Listen Live ! Saturdays 10 PM EST / 7 PM PST At The Following Places:
YouTube: http://www.youtube.com/dwightthejanitor
Mixlr: http://www.mixlr.com/prankcallnation
Twitch: http://twitch.tv/DwightTheJanitor
Help Support The Show Machines ! With Donation Machines
PayPal: http://paypal.me/dwightpcn
Patreon: https://www.patreon.com/dwightpcn
Throne Wishlist: http://thrn.co/u/dwightpcn
YouTube Super Chat !
Hit Up The Social Media Machines !!
Facebook: http://www.facebook.com/prankcallnation
Odysee: https://odysee.com/@Dwight_The_Janitor:2
Twitter: http://www.twitter.com/prankcallnation
Discord: https://t.co/037pe6ieW7
We Got That Prank Call Nation / Madhouse Live Merch
The Entire Store Is 100% Profit Free ! Get This Shit At Cost !
http://shop.spreadshirt.com/prankcallnation
Show Artist
MST3Claye: http://twitch.tv/mst3claye
Nik Caesar: http://scary-art.com
Podcast: Play in new window | Download
Subscribe: RSS
Share This