Fun & Games With Adarsh – 12/31/2020 Show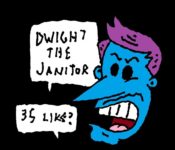 Very last show of the year ! we come across Adash a call center employee who we end up giving the youtube address to ends up coming and talking shit the entire show in youtube chat lol Dwight is testing the integrity of the motel room toilets , He also upsets the women in the room when asking her to touch it , a front desk woman threatens to beat up dwight , and then Dwight ends the show by evacuating his ass in a toilet instead of the streets ! 
Special Thanks To Nik Caesar http://scary-art.com & MST3Claye For The Show Art !
Make Sure To Listen Live ! Saturdays 10 PM EST 7 PM PST:
http://www.mixlr.com/prankcallnation
Donations: http://paypal.me/dwightpcn
Patreon: https://www.patreon.com/dwightpcn
Youtube: http://www.youtube.com/dwightthejanitor
Facebook: http://www.facebook.com/prankcallnation
Twitter – http://www.twitter.com/dtjpcn
Discord: http://hijinks.fun/chat
Podcast: Play in new window | Download
Subscribe: RSS
Share This






Share your thoughts, post a comment.