Dwight Puts An Apple On His Head – 01/09/2021 Show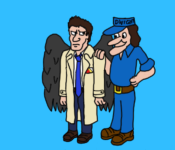 Dwight starts off the first show of the new year in a huge argument with a man who wants Dwight to put an apple on his head to prove his manliness.  Angel is sung a very sweet song ! , revenge will be had on a boss in a truck stop bathroom , a woman apologizes for interrupting , Dwight questions his abilities to be a short order cook , mac n cheese is being made in the room next door, batteries are required for the toilet, Dwight is discriminated because hes not bilingual , we need to figure out who the lopsided titty friend is & whats for movie night.
Special Thanks To Nik Caesar http://scary-art.com & MST3Claye For The Show Art !
Make Sure To Listen Live ! Saturdays 10 PM EST 7 PM PST:
http://www.mixlr.com/prankcallnation
Donations: http://paypal.me/dwightpcn
Patreon: https://www.patreon.com/dwightpcn
Youtube: http://www.youtube.com/dwightthejanitor
Facebook: http://www.facebook.com/prankcallnation
Twitter – http://www.twitter.com/dtjpcn
Discord: http://hijinks.fun/chat
Podcast: Play in new window | Download
Subscribe: RSS
Share This






Share your thoughts, post a comment.