Wendy Bell's Green Taco – 10/02/2021 Show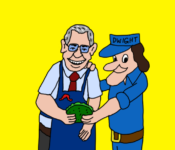 well we fired off some faxes with a mishmash of company logos such as "Wendy Bell's Green Taco" and "Bojangles Taco Tits" to truck stops to try and get the orders made which was funny as hell.  We honor the Carlito by trying to find some FAT GIRL CLOTHES, we have a rogue lobster who is a straight up snitch , a fortune cookie with a vulgar message, the toilet is requiring quarters in order to use it, we try to find fucking waldo at the local walmart.
Make Sure To Listen Live ! Saturdays 10 PM EST / 7 PM PST At The Following Places:
YouTube: http://www.youtube.com/dwightthejanitor
Mixlr: http://www.mixlr.com/prankcallnation
Twitch: http://twitch.tv/DwightTheJanitor
Help Support The Show Machines ! With Donation Machines
PayPal: http://paypal.me/dwightpcn
Patreon: https://www.patreon.com/dwightpcn
YouTube Super Chat !
Hit Up The Social Media Machines !!
Facebook: http://www.facebook.com/prankcallnation
Odysee: https://odysee.com/@Dwight_The_Janitor:2
Twitter: http://www.twitter.com/prankcallnation
Discord: http://hijinks.fun/chat
We Got That Prank Call Nation / Madhouse Live Merch
The Entire Store Is 100% Profit Free ! Get This Shit At Cost !
http://shop.spreadshirt.com/prankcallnation
Show Artist
MST3Claye: http://twitch.tv/mst3claye
Nik Caesar: http://scary-art.com
Podcast: Play in new window | Download
Subscribe: RSS
Share This






Share your thoughts, post a comment.