TikTok Influencer: Will It Flush ? – 12/03/2022 Show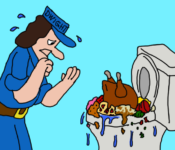 Shoutout to the Patreons , playing will it flush while live streaming on TikTok , we try to barter in order to get the cookies, finding out how the tractor seat smells , the ads of course are STILL UP , the poor people were using the restrooms.
Podcast: Play in new window | Download
Subscribe: RSS
Share This






Share your thoughts, post a comment.