Former DJ Claims Gender Bias in Prank Call Fallout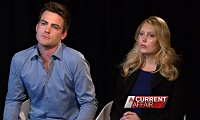 The Guardian has posted a followup on the infamous radio station prank call to the hospital where a pregnant Catherine, Duchess of Cambridge had been admitted to in December of 2012 which led to the suicide of the nurse who took the call.  Mel Greig, one half of the now disbanded Hot30 Countdown radio show in Australia, claims she has received the brunt of media attention in the fallout of the event.
Read the full article at The Guardian
Share This






Share your thoughts, post a comment.